QUAD versus YAGI
This subject has been covered by many in the past and lots of information is available on additional antenna sites.
All in mind taken the answer is simple: both have their own ups and downs.
And it is your personal OPINION which will fit you the best.
There are some basic rules to keep in mind though:
* A Quad has a smaller turning radius then a Yagi with the same boomlenght
* A Quad has a slight higher Gain than a Yagi with the same boomlenght (1dB not 2!)
* A Yagi is overall cheaper to build (aluminum./ fiberglass)
* There are still stories of Quads breaking up !
* A Quad has a slight lower noise level, this comes because the radiating element is a closed circuit (a yagi with a folded dipole or a quagi will show you the same)
* A Yagi is easier to handle / construct / maintain /
* A Quad is NOT always lighter, just imagine if ice sticks at those wires and fiberglass poles! It becomes quite a wind catcher then as well!
* A few meters above ground the quad has a lower take-off angle, when both antennas are placed high there is no difference.
* The Band with of a yagi is wider,
* A quad well tuned has a better F/B.
* There is an old ham saying which is : "with a Quad the band opens 15 minutes earlier"
Overall I'm not in favor for the yagi nor the Quad.
I never have noticed a big difference. Those who did probably didn't build one of the antennas right, or didn't compare correct.
It depends for me only on Physical size what to build (for stacking yagis are easier)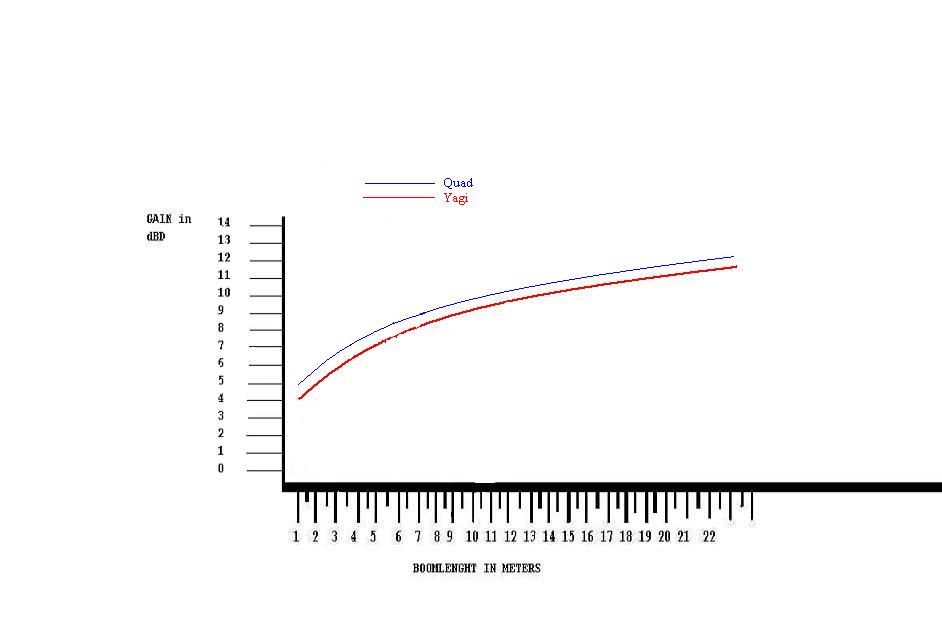 This diagram is what you could expect from your antenna, not what the manufacturer is telling you!
When compared the below diagram to the diagram in chapter manufacturers please NOTICE that the last mentioned is in dBI in stead of the below dBD (so +2,14dB).
The above diagram (gain versus boomlenght) you will find figures based on real life measurements and computer simulation.
Figures in real live could difference with what this diagram is telling, but the boundaries are within a single dB!
Remember it is NOT the number of elements on a Boom that makes the gain.
For its biggest part gain comes from BoomLENGHT!
THE BAMBY (1 element Quad)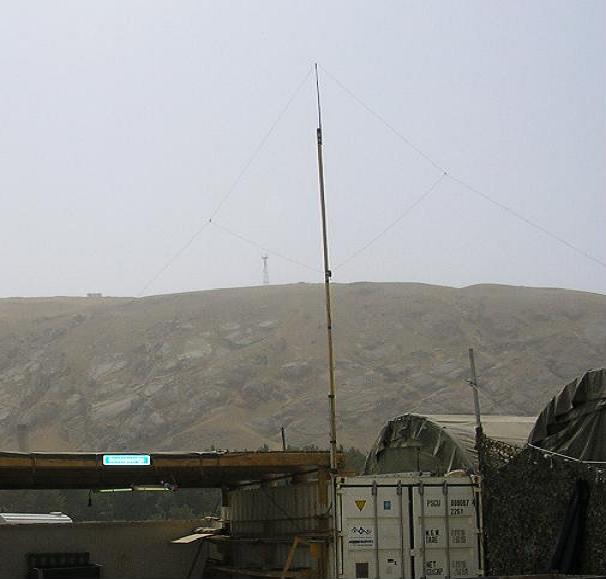 Can't go wrong (basic an electrical wire 11 meter will do the trick)

Still needs one high point.

You can make it from almost anything.

When you want to aim it you will have to turn it
or put two up

It has a figure 8 pattern looked from above so you can aim it!

You can directly feed the antenna with coax no matching needed

Easy to put up in 10 min.







Loop

With a little bit effort we can built an antenna with some gain; the loop. The length of the wire is a full-wave.
And the shape will help with the gain as shown below:

We are going to make the 50 ohm variant, b= 3822mm and a= 1910mm.
It's a bigger antenna but good results, about 2 dB more gain then a dipole.
And in spite how it looks, horizontal polarization.

It could be build like a quad or a moxon with fishing rods. Wire 1,5mm, sizes:
Total length wire: 11.464mm
1= 1910mm
2= 3822mm
3= 1910mm
4= 3822mm





Below you see the SWR, workable from 27,2 till 27,9 MHz.
Less band width then a dipole.





2 element Cubical Quad




The two element quad has a very good reputation.
If you are limited in space a 2 elements quad could be what you were looking for.
A quad has a smaller turning radius that a yagi it has a lower noise level and a slight higher gain.
Probably the best solution for its size.
Another advantage is that you still don't need a big rotator a small TV rotor beneath this antenna is a long lasting solution.
The picture is from 19LD266 Nico besides his 6 or his 5 elements yagi he also owns this 2 elements Quad.

| | |
| --- | --- |
| | Boom length 1,5m HPSD 2Q |
| Design freq: | |
| Gain: | |
| F/B: | |
| Beam width: | |
| Band width | |
| Wire | |
| A= | |
| B= | |
| C= | |
| | |


TYPE HPSD 2Q :
2 el. QUAD PATTERN





There are many commercial 2 elements available please see chapter commercial Quad for further information.
But don't forget this is an antenna you could build perhaps with Bamboo or fiberglass poles on a saturday afternoon.




3 ELEMENTS QUAD

43tr299


The strongest signal produced from Northern Australia is coming from 43TR299 the 3 element above is the reason why.
(tnx geoff for using pics) homesite 43TR299

| | |
| --- | --- |
| | Boom length 3,6m HPSD 3Q |
| Design freq: | |
| Gain: | |
| F/B: | |
| Beam width: | |
| Band width | |
| Wire | |
| A= | |
| B= | |
| C= | |
| D= | |
| E= | |


3 elements quad pattern


4 ELEMENTS QUAD



Rotator : G800 or equivalent


Above mentioned you can see the schematic diagram (not drawn to scale).

| | | | |
| --- | --- | --- | --- |
| | Boom length 5,7m HPSD 4Q | Boom length 6,9m HPSD 4Q | |
| Design freq: | | | |
| Gain: | | | |
| F/B: | | | |
| Beam width: | | | |
| Band width | | | |
| Wire | | | |
| A= | | | |
| B= | | | |
| C= | | | |
| D= | | | |
| E= | | | |
| F= | | | |
| G= | | | |
| | | | |
| | | | |


4 elements drawing 4 el quad pattern


4 el pattern long boom

5 ELEMENTS QUAD

| | | | |
| --- | --- | --- | --- |
| | Boom length 6,7m HPSD 5Q | Boom length 8,7m HPSD 5Q long | |
| Design freq: | | | |
| Gain: | | | |
| F/B: | | | |
| Beam width: | | | |
| Band width | | | |
| Wire | | | |
| A= | | | |
| B= | | | |
| C= | | | |
| D= | | | |
| E= | | | |
| F= | | | |
| G= | | | |
| H= | | | |
| I= | | | |




drawing 5 elements quad pattern 6,7m boom 5 el quad

pattern 5 el 8,7m boom

6 ELEMENTS QUAD


6el quad cubex



| | | | |
| --- | --- | --- | --- |
| | Boom length 10,5m HPSD 6Q short | Boom length 12m HPSD 6Q long | |
| Design freq: | | | |
| Gain: | | | |
| F/B: | | | |
| Beam width: | | | |
| Band width | | | |
| Wire | | | |
| A= | | | |
| B= | | | |
| C= | | | |
| D= | | | |
| E= | | | |
| F= | | | |
| G= | | | |
| H= | | | |
| I= | | | |
| J= | | | |
| K= | | | |

6 elements quad patern 10,5 m boom




6 elements 12 m boom

7 ELEMENTS QUAD


7 element quad cubex



| | | | |
| --- | --- | --- | --- |
| | Boom length 14m HPSD 7Q short | Boom length 18m HPSD 7Q long | |
| Design freq: | | | |
| Gain: | | | |
| F/B: | | | |
| Beam width: | | | |
| Band width | | | |
| Wire | | | |
| A= | | | |
| B= | | | |
| C= | | | |
| D= | | | |
| E= | | | |
| F= | | | |
| G= | | | |
| H= | | | |
| I= | | | |
| J= | | | |
| K= | | | |
| L= | | | |
| M= | | | |




14 meter boom ----------------------------------------- 18 meter boom